Clausing 8520 Milling Machine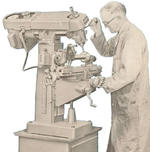 This is my Clausing 8520 milling machine. There are many like it, but this one is mine. I bought it at a university auction, condition unknown.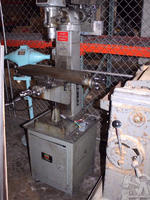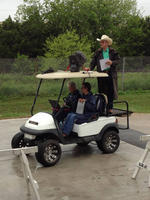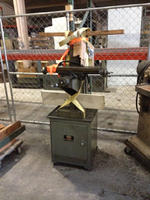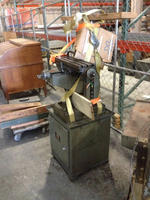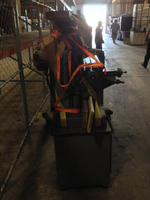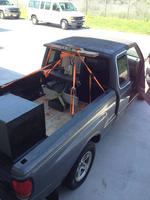 Here is an illustration of how not to lift a milling machine, even one so relatively petite.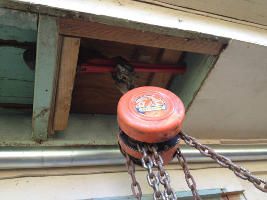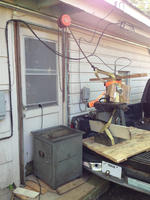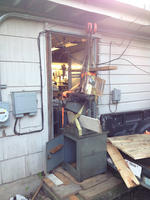 The mill came with an unwired Marathon Electric 3/4HP 3-phase motor. Lacking 3-phase power, I mounted a 1.5HP Dayton 5K565AE motor I had on hand. Wiring the motor to the Furnas R44 drum switch on the mill was a puzzle. I found two methods for accomplishing what I wanted. The first and more common method requires five conductors to the switch, and applies voltage to the motor even in the off state. The second method I pieced together from demented ramblings in some obscure forum. It requires only three conductors; the motor is de-energized when shut off; and it works brilliantly. Both methods are diagrammed below for your convenience.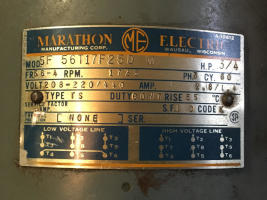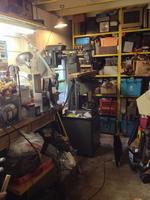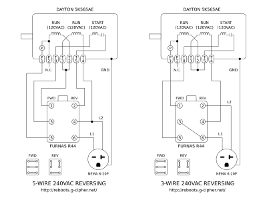 The mill fit right into my small workshop. With eBay-supplied 4" vise, tooling, parallels, clamps, and various lubricants, it's ready for action. Backlash is about .015" in X and Y, usable by an alert operator. The sensitive quill feed gears are stripped, as is typical for this model. The spindle has not been measured for runout, but it runs true by eye. Satisfactory surface finishes are reliably obtained in steel and aluminum. The first project was a nice spice rack, made from 2" aluminum tubing.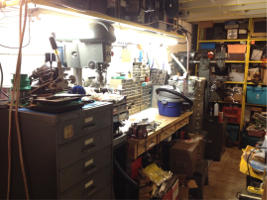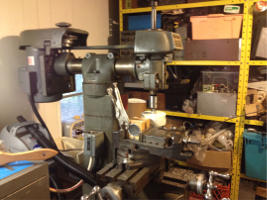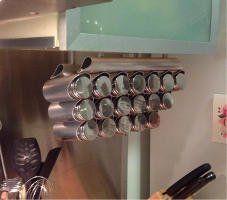 A participant in the
Clausing Lathe and Mill mailing list
requested dimensions for the 8520 table lock screws. My Y axis screw turned out to be badly worn, so I produced a drawing from the X axis screw by using a set of calipers. Dimensions may differ slightly from the original design; in particular, I had no way of measuring the diameter of the handle pivot roll pin, although I suspect it's standard 3/16". A PDF version is available here:
8520_table_lock_screw.pdf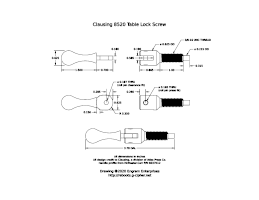 My gratitude to Dale Wentz for his
excellent, highly informative technical reference on the 8520
, from which I stole the header image.
7" Rotary Table
Through a stroke of eBay luck, I found a 7" rotary table which appears identical to the Gulledge model originally sold with the Clausing mills. I can't find a make or model anywhere on it, so it might be a respectable clone. The center bore is a straight 5/8" hole, not tapered. I machined a bushing which fits in the bore, having a concentric 1/4-20" threaded hole with a reamed seat to accept a 1/4" shoulder screw. Workpieces are easily aligned with the table axis by drilling a 1/4" hole for a reference and pivot point. The bushing also has a pair of pegs made from cap head screws, which engage the t-slots to keep it from falling through the table and from rotating while tightening the shoulder screw. It's fastened from underneath the table by another 1/4" screw. The rotary table requires considerable cleverness and careful adjustment to articulate what would be elementary CNC toolpaths. But each successful result feels like a delightful accomplishment.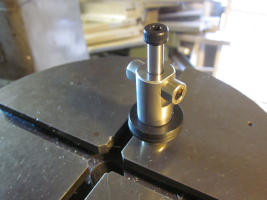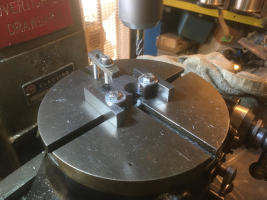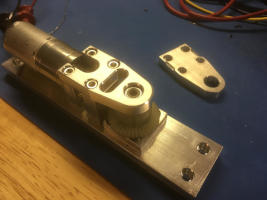 Contact: reboots at g-cipher.net
XHTML and CSS compliant
:wq